Emmanuel Holterbach & Blutwurst
Ricercar nell'ombra
(vuoto, energia, rilievo)
Blutwurst, a collective of seven musicians based in Florence devoted to experimental music, and Emmanuel Holterbach, a French composer of musique concrète, performer and sound artist, are both composing music based on sustained tones and slowly transforming patterns of sounds.
After they met at TRK. SOUND CLUB, concert series organized by Tempo Reale in Florence, they quickly decided to work together. Blutwurst proposed to Emmanuel Holterbach to compose a work for seven acoustic instruments (viola, cello, double-bass, accordion, harmonium, trumpet, and bass clarinet).
In May 2018 they worked on a 12 days residency at Villa Strozzi in Florence in the frame of the residency program of Tempo Reale, research center founded by Luciano Berio in Florence in 1987; the residency was made possible also with the help of Institut Français de Florence. Another residency took place in October, at SpazioK (Prato) and SBAC (Antella, Florence).
As Emmanuel Holterbach said «When it was clear that the collaboration project with Blutwurst would start, i was really excited. I have a long story of interest for Italian music from Reinassance to Baroque era to experimental figures of the 20th century (Giusto Pio, Walter Marchetti, Teresa Rampazzi). Suddenly I visualized this project as possibility to pay homage to this beautiful musical part of Italian history.
The project started with the fascination I have for the beginning of Francesco Guami Lucchese 'Ricercar III', and the overwhelming elegance of this simple melody».
This one hour long composition is actually based on the notes of the opening melody of 'Ricercar III' by Francesco Guami, a renaissance italian composer.
Applying methods developed by Emmanuel Holterbach in his electroacoustic compositions, the work is structured by trusting the endless possibilities of combining these notes into pitches, chords and patterns.
Ricercar nell'ombra is a wide, luxurious and vivid soundscape expressing a large palette and nuances of densities, energies and contrasts.
---
Emmanuel Holterbach is a French sound artist and composer of musique concrète. Holterbach focuses on performances, compositions and installations for which he coined the term "acousmagic". His research is based on the exploration of the intense and spontaneous musicality of specific natural phenomena; therefore, his electroacoustic compositions are made using sounds captured in natural and industrial environments. He is inventor and builder of acoustic sound objects (see his duo Orbes on enharmonic glasses), machines for sound spatialization (called acousmotopographes) and mutant speakers. With Lionel Marchetti and Jérôme Noetinger, Holterbach is part of the new wave of composers and performers who have renewed the tradition of French musique concrète, expanding its spectrum of investigation. Since 2004 Holterbach is the curator of Eliane Radigue's archives and one of the world's leading experts on the work of the French composer, of whom he wrote the official biography for the INA-GRM editions, Paris. He "rediscovered" and exploited the work for feedback by Radigue, of which he has also edited publications for the labels Algha Marghen and Important Records.
emmanuelholterbach.bandcamp.com
---
The ensemble Blutwurst was founded in Florence in 2011 by musicians involved in radical improvisation and contemporary classical music.
The founding members are Marco Baldini (trumpet), Edoardo Ricci (bass clarinet, alto saxophone) and Daniela Fantechi (piano, accordion). The ensemble grew up since 2012 with Michele Lanzini (cello), Cristina Abati (viola), Luca Giorgi (electronics, percussions), Maurizio Costantini (double-bass) and Luisa Santacesaria (piano, harmonium).
At the first stage Blutwurst focused on improvisation and on the study and implementation of open and graphic scores by composers such as John Cage, Christian Wolff, Morton Feldman, Cornelius Cardew, Alvin Lucier and La Monte Young, and realized sonorizations of silent and art movies.
In 2013 the ensemble began to work on its own compositions with the project Yoğurt, entirely dedicated to the electro-acoustic exploration of unisons and drones.
Since 2013, Blutwurst performed, among others, at Frau Frisör Fosca (Florence, 2013 and 2014), SpazioK (Prato, 2014), Tempo Reale Festival (Florence, 2015), Estate Fiesolana (Fiesole, 2016), Cafe OTO (London, 2016).
In 2015 Blutwurst realized the soundscape for the essay movie Negotiating Amnesia by the London-based artist Alessandra Ferrini, in partnership with Festival dei Popoli and Murate-Centro per l'Arte Contemporanea, Florence.
From September 2015 to January 2016 Blutwurst was part of the Residence Program IN_Tempo Reale. In May 2016 the ensemble released its first album Tenebrae for the Tempo Reale Collection and, in December 2016, the LP Yoğurt for the English label Negative Days.
In 2019 the new album Anabasi will be released by Italian label Kohlhaas.
---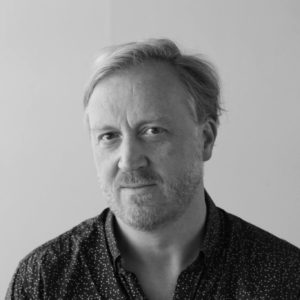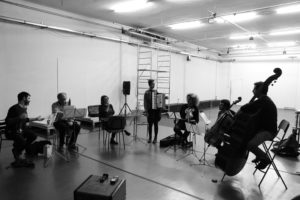 Audio extract from rehearsals at SpazioK, Prato (October 2018)